Tubing pumps are classified as high volume, heavy duty pumps. Maximum production can be expected with this type in relation to the size of tubing. However, because of the large plunger diameter, the fliud load will be greater than with an insert pump.
The seating assembly of THC pump is cup type and for THM is mechanical type. The THC and THM type of tubing pump are suitable for the frequently work-over wells.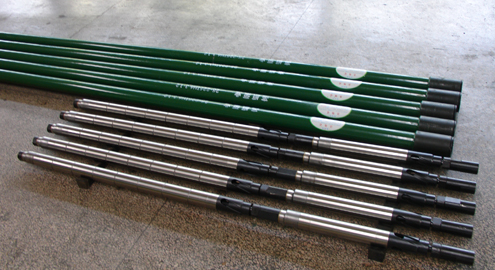 It is suitable for corrosion and small amount of sand and gas, deep Wells, such as complex well conditions, the use of safe, stable performance and wide application.Under operation easy to operate,economical and practical, it can reduce oil field operation cost by more than 30%.It can be designed according to the customer's well.
Model

Nominal Dia.

mm(in)

Plunger

Lengh m(ft)

Pump Constant (M³/d )

Tubing and Thread

Sucker rod Thread

20-125TH

32(1.25)

1.2(4)

1.14

2-3/8"NU/EU

3/4

25-125TH

32(1.25)

1.14

2-7/8"NU/EU

3/4

20-150TH

38(1.50)

1.64

2-3/8"NU/EU

3/4

25-150TH

38(1.50)

1.64

2-7/8"NU/EU

3/4

20-175TH

44(1.75)

2.24

2-3/8"NU/EU

3/4

25-175TH

44(1.75)

2.24

2-7/8"NU/EU

3/4

25-200TH

50(2.00)

2.92

2-7/8"NU/EU

3/4

25-225TH

57(2.25)

3.69

2-7/8"NU/EU

3/4

30-250TH

60.3(2.375)

4.56

3-1/2"NU/EU

7/8

30-275TH

70(2.75)

5.50

3-1/2"NU/EU

7/8

35-325TH

83(3.25)

7.70

4"NU/EU

7/8

30-375TH

95(3.75)

10.36

4-1/2"NU/EU

1